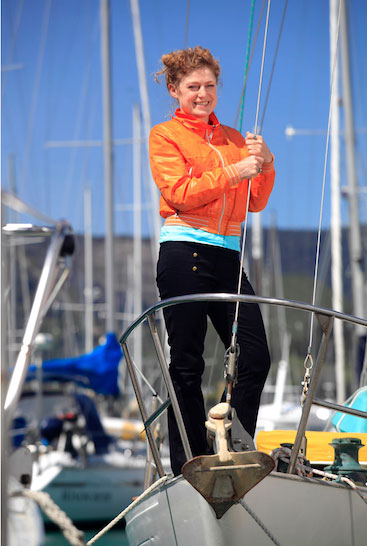 Vicki Smith is an artist from Harihari, a small community on the west coast of the south island, Aotearoa/New Zealand. Vicki is an observer, explorer and navigator working from her 11 metre wooden sailing vessel – Kiritea.
Vicki is a project manager and networker, connecting communities of artists (Aotearoa Digital Arts network www.ada.net.nz), online educators (virtual learning network communities http://www.vln.school.nz/) and an advocate for open-source; not just in the code sense but in encouraging community around the process of researching and developing work. She is an enthusiastic learner, amalgamator of traditionally disparate disciplines and works to highlight local global issues.
She is one of a global collective who began performing through networked environments in the last millennia – www.avatarbodycollision.org – and co-creator of UpStage www.upstage.org.nz (a realtime online performance venue) where she collaborates with and supports the growing community of artists. Vicki co-curated the annual festival series in UpStage, and co-hosted the CyPosium that connected networked performance artists and audiences in the first global online discussion about the practice of cyberformance (http://www.cyposium.net).
More information about Vicki may be found through her LinkedIn Profile
Works for the last five years include:
2018
Te Wairepo ~ Place | People | Participate


Collaborating with Mel McColgan ~ Waimaori
Funded by Nelson City council

Breathe

the temperature display array is modified and installed in the Nelson Public Library alongside a series of public talks and workshops

Kaitiaki

four schools engage in a project to literally tag themselves to trees as kaitiaki (guardians) through learning about the ecology of the waterway, ways and why to care and designing stencils to print on treeguards. The students are given their own tree and one is given away at a public event. The stencils were created into lanterns for the Matariki parade. an article about the project was published in Wild Tomato (page 12)
http://issuu.com/wildtomato/../wt_issue143_june18_/...

Wakapuaka ~ bursting with life

: (Funded by Nelson City Council, Nelson Nature) an introduction for a rural river catchment project. Through the images and interviews of those living nearby, a reminder of the importance of the waterway as the instigation of a community engagement project. http://www.nelson.govt.nz/.../nelson-nature/wakapuaka-bursting-with-life/

Walk the Chalk, Talk the Walk

- a walking symposium event that saw guided groups from the local community walk part of the Te Wairepo waterway via a series of stations that explored intersetions with the waterway through the stories and presentations by local iwi, community organisations, scientists and ecologists and civil engineers. A stencilled image marks where the waterway runs underground.

Team Up to Clean Up

~ preparing the ground - a community working bee to clear rubbish and weeds from around the waterway in preparation for matariki events, celebrating with shared food and planting edible fruit trees (run in conjunction with Victory Community Centre)

Matariki

- celebrating the completed Te Wairepo project by giving away perpetual calendars especially designed by NMIT student Cris Rule and trees with stencil decorated tree guards (part of the Victory Community Centre celebrations). Students took part in the parade and the plantings (from the Kaitiaki and Team Up mahi) were lit up as part of the focus on the local water, walk and cycle ways.

Oceans Mesh ~ our social seas

(Funded under the National Science Challenge, Sustainable Seas, Ministry of Business, Innovation and Economics)
A projected 'story' as meta-narrative within a site-specific context (Light Nelson festival, at Albion Square, sharing walls of the Suter art gallery with film-maker Vincent Ward). Commissioned as part of the National Science Challenge research project 'Ecosystem Based Management Enabling Narratives for New Zealand'; the work is a participatory experience for the viewer, combining elements of seascape and language, and a physical and virtual 'social net' that enabled the interweaving of public opinions and ideas into the live streamed work. Collaborators Dr Charlotte Sunde (Cawthron) Dr Alison Greenaway (Manaaki Whenua Landcare Research)
Presented at Spectra https://spectra.org.au/ and the Sustainable Seas conference https://sustainableseaschallenge.co.nz
http://oceansmesh.net
SOUNDING ~ echolocation and disruption in our oceans:
SOUNDINGwalks a series of artwalks taking participants through a conversational meander from the art + ocean installation at the HD Skinner Gallery (Otago Museum) to the previous or current harbour edge. Alongside the contributions of participants, the field of study of the leader provided conversations traversing the mechanics of echolocation, paleontology, mammalian vocalising and the art of walking.
With artist Caro McCaw, Dr Liz Slooten and Sophie White
A walk as part of the Performing Ecologies Conference - part of the annual conference http://www.otago.ac.nz/performance-of-the-real
Field Guides
Funded by Healthy Streams, Nelson City Council and Cawthron

Te Wairepo Hikoi

FieldNotes Fish

Central School Mural

~ assisting twelve students in the design and application of a Mural celebrating the Kereru Count and EnviroSchools.
Funded by EnviroSchools

Wakapuaka Hikoi and workshop
2017
Fringe Art Project

~ Part of the Nelson Fringe Festival, a hanging manually operated origami zoetrope

... thanks Eliot

Black Swans ~ a selected chorus cabinet artwork in Waldronville, Dunedin (two black tyre swans depict the invasive species running over indigenous fauna at the nearby estuary, Waldronville is also home to the stock car racing track)

Te Wairepo ~ Place | People | Participate


A tributary of Project Maitai/Mahitahi funded through Nelson City Council
A communty engagement project using art and events to encourage greater connection and kaitiakitanga (care/guardianship) of Te Wairepo / York Stream and its surrounding area.

Race Unity Day

- introducing locals to their stream and assessing connections and understandings via a story-map-survey process, working alongside Mel McColgan a stream ecologist and Jo Martin providing information about stream impacts and trees to help mitigate these.
Breathe - a series of workshops to create a school of internet connected fish replicas telling a realtime story of the temperature of the waterway which impacts on oxygen levels and the ability for fish to breathe. (Collaboration with Mel McColgan, Andrew Hornblow and John Paul Pochin as well as Light Nelson Collection and students and staff of four schools along the Te Wairepo Stream)
Installed at Nelson Povincial Museum – won the illuminate prize and was longlisted for the 2017 Riverstory awards

....thanks Eliot

is motorised and forms part of an installation (using old projectors, drawings and a single slide viewer) discussing youth suicide which was the subject of the Fringe show it originally accompained
Illuminate ~ art in windows series

Matariki

- celebrating the progress and providing more inspiration and trees for local planting as part of the Victory Community Centre celebrations, leading to writing a second series of works for the Te Wairepo

Team Up to Clean Up

- a community working bee to clean rubbish from the local community with a focus on the stormwater system into the stream, celebrating with shared food and a tree planting ceremony with local kaumatua (Kawakawa, for the heart of Victory Community Centre) Design work by NMIT students
SOUNDING ~ echolocation and disruption in our oceans (Funded by Dunedin City Council, Urban Dream Brokerage, Gig City, CNZ, Deloittes, Monarch Trust and Otago Polytechnic) A project spanning a central city sonic installation, a gallery pace at Otago Museum, workshops and performances creating and using augmented umbrella to enagage the public in a conversation about increasing machine noise on our cetacean neighbours.
Collaboration with Caro McCaw) https://www.facebook.com/SOUNDINGdunedin

Team Up to Clean Up ~ WEEDS!

a community working bee to clear rubbish from the local community with a focus on the stream, celebrating with shared food, bird attracting trees and bird feeders to give away
Run in conjunction with Victory Community Centre
2016
Invited artist for Water*Power*Peace created the work "Pressure for Change" installed in Te Niho, Parihaka (gifted with love and gratitude by request by Whaea Maata Wharehoka)

"Wai-Mahi" commissioned to design a work for the Nelson Waterworks by the Nelson Council created a weaving using recycled PVC installed in collaboration with Cid Shearman and Tia Wilkie.

Light Nelson 2016 - Instigated and collaborated an online text adventure and an installation series for Light Nelson called "Finding Lucinda Fairweather" (flf.geek.nz) the story/treasure hunt plays out around the old shoreline of Nelson and leads to the discovery of a forgotten local feature. (Funded by Light Nelson)

Victory Primary School - Te Wairepo/York stream commissioned by Project Maitai (Mahitahi) to produce a work for three gates adjacent to the stream and school the design was created in collaboration with eight students and applied collaboratively with a wider group.

"Passing Shower" a tactile and audio work for the Refinery Art Gallery exhibition Blind Date:

Koha Shed Mural Te Wairepo (Victory Community Centre) painted with the help of students and locals, part of the community engagement process for scoping the Te Wairepo Project (for delivery up until June 2017). (Funded by Nelson City Council)

Flock is woven Installation on the estuary edge shows a line of oyster catchers taking off. Created with Cid Shearman for the Tahuna Sculpture walk it is now installed at Natureland along the rescued bird recovery avairy.

2015
"Vessels", SCANZ artist residency in Taranaki using found objects, drawings and nets made of harakeke (flax) this installation recalled museum vitrine displays with a narrative of rivers and the sea. Invited artist

Beyond the Book the fish vellum book "Under her Skin" hangs in an aquarium floating on a sea of woven images of clouds, sea and sky in this group exhibition at the Tin Palace, Lyttelton

"A Transitional Imaginary: Space, Network and Memory in Christchurch". An immersive collaborative writing project between eight artists, writers and academics who produced a book in a 'sprint' of five intense days. (Funded by Creative New Zealand)

Chorus Cabinet Art "George Boat's Aerial Exploits" selected design applied to the cabinet with the assistance of Cid Shearman.

2014
Instigated and lead the collaborative participatory puppet show project "Ships Pass in the Night" exploring migration tales and the plight of te Tuna (the endangered endemic long finned eel) for Light Nelson.

Devising the media art/weaving project "Pattern Recognition" co-created with Aroha Timoti-Coxon and installed in the Westland Library, Hokitika.

2013
SCANZ Taranaki artist residency leading to the creation of the print work Approaches to Puke Ariki added to the Puke Ariki pictorial collection.

RYA Coastal Skipper (Practical) certificate sailing with Hank Haazen aboard sv Tiama, Auckland to Lyttleton.

"Under her Skin" a book bound in fish vellum, created while crewing a pacific passage (Fiji to Aotearoa) for which she gained the regional prize in the national fibre arts awards Changing Threads.